Elegant and practical worktops for bathrooms
The kitchen is not the only room where surfaces can become beautiful and functional features in the home. Increasingly, bathrooms are becoming a focal point for elegant countertops in a range of high-performance materials.
Unlike a kitchen where the worktop is usually kept dry, the bathroom is an entirely different environment. Instead of food crumbs and marks from cooking utensils, bathroom worktops must be able to endure constant moisture. Water from taps and showers, humidity in the air and the spray of cleaning fluids - which often contain chemicals for treating mould and mildew - could damage surfaces if proper care is not taken.
Luxury solid surfaces
Mix luxury and practicality and create a haven for relaxation and pampering in your bathroom with a Mistral solid surface bathroom worktop. The polished finish and water damage resistance of Mistral makes it an excellent choice for a bathroom worktop. Smart surfaces that combine anti-bacterial and easy clean technology make it possible to keep your bathroom squeaky clean.
A solid surface is a vital component in many exciting bathroom designs, and with the design versatility of Mistral, it can be used to create vanity tops, shower trays and wet rooms.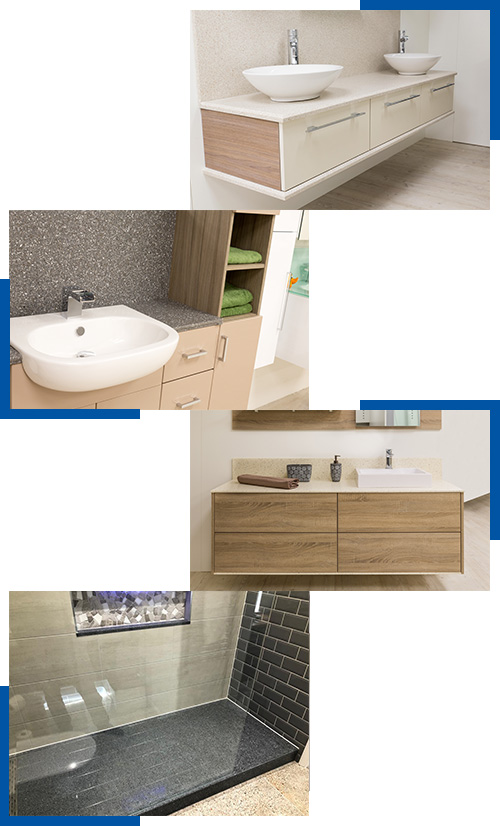 Mistral work surface is the perfect choice for bathrooms and kitchens as it is non-porous and easy to clean. The quality of this product also ensures that the growth of mould, mildew and bacteria are unable to form. These beautiful worktops mimic the appearance of natural stone. They are solid and made using no MDF ensuring it is strong, hygienic and 100% waterproof. We have a selection of Mistral surface worktops from the highest quality Mistral tech that promises a durable finish and adds a premium look to your bathroom.
Check out our Mistral information page here.